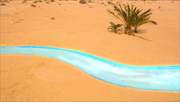 Shape up with some silly Boohbah skips and be ready to sway the Boohbah way. In Storyworld, Mr Man & Mrs Lady find a plank by a Stream. Can they both get across without making a big splash?
2 Country Intro: Ecuador & Russia
Warm-Up: Skipping
Storypeople: Mrs Lady and Mr Man
Boohbah Dance: Swaying
This is the 3rd & last time in which as the Somebody's Coming! music plays for the 2nd time, instead of the screen freezing, the Storypeople look around to try to see who is coming before the Storypeople pop up. The 1st time being The High Wall, and the 2nd time being Cracker.