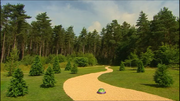 Hip and Hop about with the
Boohbahs
and look out for lots of loopy leaping. In
Storyworld
,
Grandpappa
and
Grandmamma
find a Snow-shaker. Will it cause a flurry of excitement?
2 Country Intro: Ecuador & Russia
Warm-Up: Hip And Hop
Storypeople: Grandmamma and Grandpappa
Boohbah Dance: Loopy Leaping
This is the last episode to have the warm-up "Hip And Hop".
This episode shares some traits with Hammock. Namely the Ecuador & Russia intro, "Hip And Hop" warm-up, and "Loopy Leaping" dance. Grandpappa also appears in both episodes.