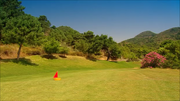 Jump to the beat and be a star with the Boohbahs and do a crazy Collecting dance. In Storyworld, Mr Man discovers a little boat. But will it be plain sailing when he gets on board?
2 Country Intro: Spain & USA
Warm-Up: Star Jump
Storypeople: Mr Man
Boohbah Dance: Crazy Collecting
A stream would later be the primary focus of a Storyworld segment 2 episodes later.