Robin Stevens is the actor who plays
Grandpappa
in Boohbah. He was born on January 30th, 1960 in London. He did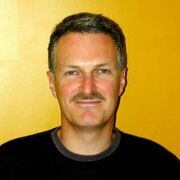 lots of other Ragdoll shows, including one show, Blips, where he was Mr. Perfect. He 
is a British
 Puppeteer,
 Actor
, Director
 and Writer
 for children's TV for nearly 30 years, and has done many successful programs. These include Pob's Programme
, Teletubbies
, Rosie & Jim and
 Tots T.V.
 He worked for Ragdoll Productions
 for about 20 years, at times co-writing scripts and originating content with Alan Dapre (One of the Writers for Boohbah), before that working for the BBC
. He trained with John Blundall, the world famous puppet master. He puppeteered Pob in 
Pob's Programme
, 
Jim in 
Rosie and Jim
, Tom in 
Tots TV
 (he also wrote the scripts with Tiny's puppeteer Andrew Davenport
) and The Man in the Magic House in 
Teletubbies
 (he voiced the man in all foreign dubs except for the USA version where American actress Dena Davis redubbed the voice). He is also a Writer.
Ad blocker interference detected!
Wikia is a free-to-use site that makes money from advertising. We have a modified experience for viewers using ad blockers

Wikia is not accessible if you've made further modifications. Remove the custom ad blocker rule(s) and the page will load as expected.