Be wide and thin with the Boohbahs and play a Fly Away and Back game. In Storyworld, 
Brother and Sister & Mrs. Lady are under a cloud. Will they have to dash when it makes a splash?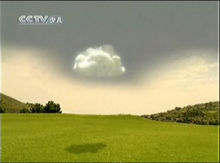 In the Present Giving, after the camera fades to the present that's in the box, the present giving music plays, and the kid appears as he's about to take the present to the center BEFORE the ''Boohbah'' yell, and the kid saying ''Shhh!"
Ad blocker interference detected!
Wikia is a free-to-use site that makes money from advertising. We have a modified experience for viewers using ad blockers

Wikia is not accessible if you've made further modifications. Remove the custom ad blocker rule(s) and the page will load as expected.