Jumbah is the blue Boohbah.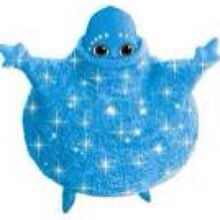 Biography
Edit
Jumbah can master many dances very good, listening to the "children" and others when they want to do something during their dance routines. He also seemingly enjoys bumping into other Boohbahs and falling over as much as they do.
Appearance
Edit
Jumbah is teal and blue or turquoise with a denim blue strip of fur at the back of his stomach and brown eyes.
Actor(s) Edit
Merchandise
Edit
Hasbro (Get Up and Dance, Dance Along, Silly Sounds, Peek-a-Boohbah, jumbo pillow, Zippity, action figure, and Play-Doh figure)
Golden Bear Toys (Lights and Sounds, medium plush, Peek-a-Boohbah, and Dancing)
TWF (all of the above, authentic deluxe plush, assorted plush, remote-controlled flying, 7" figure, and sound figure)