Scrunch up small and stretch out big with the busy dizzy Boohbahs and do a wonderful wobbly dance. In Storyworld, Brother & Sister are on a desert island. When the race is on, will they pull the plug or be left all at sea?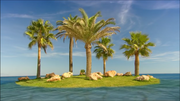 In the Building Blocks VHS & DVD, it was called Desert Island.
Ad blocker interference detected!
Wikia is a free-to-use site that makes money from advertising. We have a modified experience for viewers using ad blockers

Wikia is not accessible if you've made further modifications. Remove the custom ad blocker rule(s) and the page will load as expected.