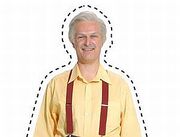 Grandpappa
is a
Storyperson
. He is played by
Robin Stevens
.
Biography
Edit
Grandpappa, despite being spry, is almost always trying to stop the Storypeople's pet, Little Dog Fido, from taking away things that he finds (like an Armchair or Comfy Slippers).
He also has little luck getting to get inside certain objects, like a Hammock or a Space Rocket.
Appearance
Edit
Grandpappa is an elderly man.
He has white hair and a white mustache.
He usually wears a long-sleeved yellow shirt, some dark gray trousers, red shoulder straps, yellow socks and white trainers.
He always pets his favorite pet, Little Dog Fido.
He is the owner and a good nice man.
He's nice and helpful and friendly.
He's very good.
He can be stubborn.
He can be furious.
He can stomp.
He can be Angry.
TV Episode Appearances
Edit
Skipping Rope (debut)
Book (last appearance)