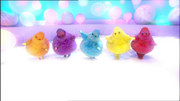 These episodes have "
the Wonderful Wobbly Dance
", a dance where the Boohbahs try balancing while wobbling like they are about to fall over.
The dance starts with the Boohbahs sitting down. They then lift their heads up, then hide them for a few seconds, then lift them up again. The Boohbahs dance to the music while sitting down, and one-by-one, Jumbah, Jingbah, Zumbah, Zing Zing Zingbah, and Humbah stand up to shake their stomach and seemingly blow raspberries. Then, they all shake their stomachs at once before sitting down; Jingbah wobbles twice instead, which causes her to lose balance, fall down, and expel air.
Next, it's Zing Zing Zingbah's & Zumbah's turns, and they do the same thing as Jingbah. Then, all of the Boohbahs, except for Jumbah, wobble, while Jumbah looks at them. Jumbah eventually stands up, only to fall down on the ground (expelling air when landing) and join the others. Then, they all move to the right, then the left, and then in one straight line.
The Boohbahs all wobble, along with close-ups of Zing Zing Zingbah and Zumbah's feet, and eventually, they all fall down. Next, the Boohbahs shake theirbottoms up and down and squeak; in-between each time, they look one way, and then look the other way. The Boohbahs stand up, wobble, fall down, and expel air. Zumbah, however, keeps wobbling, but does not lose his balance. When the Boohbahs' heads are turned, Zumbah collapses to the ground, and the dance ends with the Boohbahs, down on the ground, shaking and wiggling their bodies.
Subcategories
This category has the following 50 subcategories, out of 50 total.
'

A

B

E

E cont.

H

I

J

M

O

P

Q

S

T

W

泡
Pages in category "Wobbling"
The following 43 pages are in this category, out of 43 total.
A

B

C

C cont.

D

F

G

H

I

J

L

M

M cont.

N

P

R

S

T

V

W

Z
Media in category "Wobbling"
The following 16 files are in this category, out of 16 total.