Boohbah Magic
is a VHS/DVD released by the Video Collection International and
Paramount Home Entertainment
.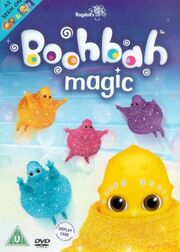 TV Episodes
Edit
Boohbah Magic Edit
Comfy Armchair & More Boohbah Magic VHS Edit
​Comfy Armchair & More Boohbah MagicEdit
In America, for unknown reasons, the title of the video was changed to Comfy Armchair, presumably after the first episode.
Although thought to be a totally different video altogether because of the name, the Comfy Armchair release contains three of the four episodes featured on the Magic DVD (and all three episodes featured on the VHS version). The only difference between both is that the DVD version features the same bonus material as virtually every other North American DVD release of Boohbah, and the order the last two episodes are shown on the VHS are reversed.
Ad blocker interference detected!
Wikia is a free-to-use site that makes money from advertising. We have a modified experience for viewers using ad blockers

Wikia is not accessible if you've made further modifications. Remove the custom ad blocker rule(s) and the page will load as expected.