Big TV and more Boohbah Magic is a DVD released in Australia in 2006.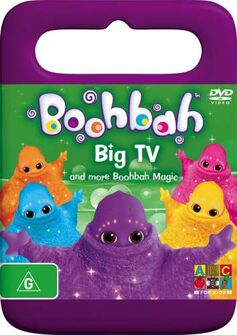 Episodes
Edit
This DVD is very similar to the American DVD, Big Windows, and also contains all three episodes from that release (except for Pencil Sharpener).
The episodes shown on this DVD are different from their American broadcast versions:

The British version of Windows has the Hide Your Heads and Feet end dance, while the American version (Big Windows) has the Hiding in a Line end dance. In Big Windows, the Storypeople's names being called out after the present is revealed is carried over to the international version (Windows).
The British version of Big TV has the Sneak Up and Surprise Out end dance, while the American version has the Near and Far dance.
The British version of Long Drink has Jumbah leading the Star Jump warm-up dance; the American version has Humbah leading the Hopping Side to Side warm-up dance.

This release was one out of a handful of Boohbah home media releases to be exclusive to a certain country (in this case, Australia).
Ad blocker interference detected!
Wikia is a free-to-use site that makes money from advertising. We have a modified experience for viewers using ad blockers

Wikia is not accessible if you've made further modifications. Remove the custom ad blocker rule(s) and the page will load as expected.